New Castle, Delaware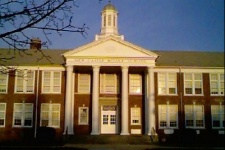 New Castles Laptop Rentals
Rentech Solutions is
New Castle's leader in laptop rentals
. If you need a laptop rental computer for travel or a few dozen notebook rentals for a sales meeting, have one of our account managers customize a solution that will exceed your expectations. When it comes to laptop notebook rental we provide the finest equipment in the industry. We now offer Core 2 duo IBM notebook rentals and HP laptop rentals in New Castle. Contact one of our dedicated account managers and develop the perfect laptop rental plan to meet your budget and accomplish your goals.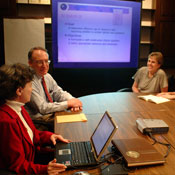 New Castle Computer Rentals
When you need to set up a conference, training event or temporary office in New Castle, Delaware, call Rentech Solutions for all your computer rental needs. We provide up to date desktop computer rentals with outstanding customer support. A corporate client recently ordered 25 Dell computer rentals with 19" monitors, wireless networking and printers for a week long class room training project. Let Rentech Solutions help you with your next computer rental endeavor and you will be pleased with our cost effective computer rental services.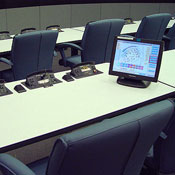 New Castle LCD Projector Rentals
Call Rentech Solutions for a high quality LCD projector rental in New Castle, Delaware. We'll help make your next presentation stand out. Just tell us the approximate number of people in your audience and we'll advise a projector rental with the proper lumens to get the job done. We also rent professional presentations screens and projector stands to complete your LCD projector rental. Powerpoint presentations as well as weddings and recognition events can all benefit from an affordable New Castle LCD projector rental. Rentech Solutions has a large repeat clientele basis that trusts our projector rental services for all of their presentations.
New Castle Audio Visual Rentals
Do you need to rent AV equipment in New Castle? Call Rentech Solutions for affordable AV rentals. One of our friendly and knowledgeable account managers will help you choose the right system to meet your needs. We rent
42" Plasma displays
, microphones, mixers, camcorders and DVD players to help make your event something that will be remembered for years. All of our audio visual rental equipment is backed by 24 hour technical support and our commitment to your satisfaction. AV rentals make perfect sense for short term requirements in New Castle that do not require the purchase of audio visual equipment. Call for the perfect audio visual rental package today.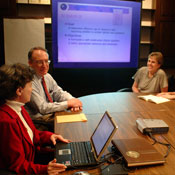 Renting Laptops
Hotels Serviced in New Castle
Quality Inn Skyways
147 North Dupont Highway
New Castle, DE 19720
Universities Serviced in New Castle