Charleston, West Virginia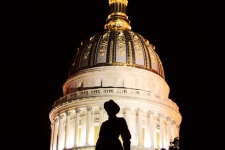 In Charleston Rentech Solutions provides the capital city with quality name brand technology rentals at affordable prices to meet all our client's budgetary needs. We provide
Charleston, West Virginia with wireless laptop computer rentals
, high quality projector rentals, and a large selection of audio visual rentals. Our main rental clients in Charleston consist of corporations, major hotels, and government agencies that depend on Rentech Solutions to accommodate their important events. Our company focuses entirely on the needs of our clients and we make sure no details are ever overlooked to help guarantee the success of your event. Please contact any of our sales associates today for details on all of our products and services available in Charleston, West Virginia.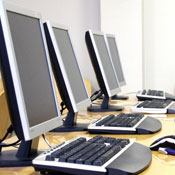 Our company carries many various models of desktop computer rentals and wireless laptop rentals to fit our customer's needs. Desktop computer rentals come fully equipped with a 19" LCD flat screen monitor, keyboard, and mouse. All laptop computer rentals come preloaded with fresh software and are ready for immediate setup and use upon delivery.
Computer rentals in Charleston
are available with a full line of accessories for networking including: wireless routers, switches, and all the cables necessary to setup any type of mobile lab. We have experienced and knowledgeable technicians ready to assist and help any client with problem solving any custom setup. With large orders of laptop computer rentals we are able to preload designated software on all laptop rentals and configure them to our client's specifications saving valuable time. Contact any of Rentech Solutions rental associates for further information regarding our computer and laptop rentals in Charleston, West Virginia.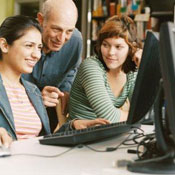 Rentech Solutions specializes in providing high lumen projector rentals for all presentations and events in Charleston. Our projector rentals are tested rigorously before and after every use to maintain a high level of quality and dependability for every customer's event. We carry a large selection of projector rental models to suit many of our customer's individual budgetary requirements in the Charleston area. All of our projector rentals are ready for setup and use upon delivery and can be packaged with portable projector screen rentals for mobile presentations. Projector screen rentals are offered in many models and sizes dependent on audience and room size at the events location. Projector rentals are plug and play ready with most name brand laptops, DVD players, and standard satellite boxes. Please call any of our rental technicians for details on our
projector rentals and services in Charleston, West Virginia
.
Audio visual rentals in Charleston
include: wireless microphone rentals, amplified speaker rentals, digital camcorder rentals, and multiple channel audio mixers. All of our AV rentals in Charleston come with custom length cables and all the accessories needed to setup any audio visual equipment rentals used during your event. For more difficult setups we have Av rental technicians available to help guide and configure all our audio visual rentals to our customer's specifications prior to the event start date. Our digital camcorder rentals are offered in three formats: mini DV, internal hard drive, and mini DVD. Every one of our camcorder rentals have the option for external microphone rental and tripod rentals and are provided at an affordable flat rate. Please contact our Av rental department for more information and details on our complete line of Audio visual rentals in Charleston, West Virginia.
Notebook Rental
Conventions Serviced in Charleston
Hotels Serviced in Charleston
Embassy Suites Charleston
300 Court Street
Charleston, WV 25301
Universities Serviced in Charleston