Wichita, Kansas

Wichita Computer Rentals
Rentech Solutions offers cutting edge desktop
computer and IT rentals to Wichita
businesses at low rental rates. We deliver a state of the art computer leasing packages for a temporary office or company wide training event. Stay ahead of the ever advancing technology curve by a leasing plan for one or even one hundred computers and all size leasing requirements in between. Call and consult with a dedicated account manager about rental package options and flexible terms of a cutting edge computer rental for a trade show or sales rally in Wichita We offer the best technology in the industry with great customer service and 24 hour technical support. Call Rentech Solutions today.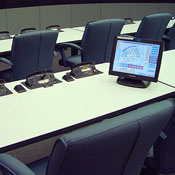 Wichita Laptop Rentals
Laptop computer rental
is affordable and practical with Rentech Solutions. We supply corporate clients in Wichita, Kansas with notebook and laptop rentals for training events and offsite meets. When you rent notebooks from us we will image your software to each laptop unit to save you time and increase productivity. Lease a laptop notebook for when you travel to an offsite conference in Wichita. Rentech offers wireless networking service, laptop carrying cases and a complete compliment of accessories to go with your computer lease packages. We stand by our valued clients and provide 24 hour technical support. Leasing a laptop notebook is great for assisting your next inventory. Give every one of your employees the IT equipment they need to attack short term projects. A laptop notebook rental from Rentech is available when you need it without the cost of a purchase. Save the inventory and upkeep expense of maintaining a fleet of aging office computers. Call Rentech to discuss your upcoming laptop computer leases.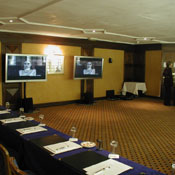 Wichita Projector Rentals
Rentech Solutions specializes in supplying a diverse selection of
projector rentals in the Wichita area
. Our projector leases are the solution to affordable power point presentations, trade show booths, and theater style presentations. To compliment our projector rentals we also accommodate projector screen rentals that vary in size to fit any conference hall or banquet facility. Projector rentals are put through a battery of tests to ensure dependable performance and reliability for every rental in Wichita. Every projector rental comes complete with all accessories and cable necessary for instant connection to laptops and DVD players. Wireless remote rentals are furnished upon request to give customers ease of displaying slideshows and presentations. Please contact Rentech Solutions for a full listing of projector rentals and accessories available in the Wichita area.
Wichita Audio Visual Rentals
To uplift the atmosphere of any event Rentech Solutions supplies an all encompassing selection of audio visual rental equipment to complete any lease package in Wichita. We inventory digital camcorder rentals, wireless microphones, PA systems, powered speaker rentals, and sound mixers for more elaborate sound stage applications. All AV rentals come ready to implement and can be adapted to most existing applications and house equipment. Audio visual leases can be tailored with event specific accessories for more intricate assemblies requiring several pieces of AV equipment in multiple locations. Please consult with one of our knowledgeable AV rental department technicians for complete details on our complete selection of
audio visual gear rentals in Wichita, Kansas
.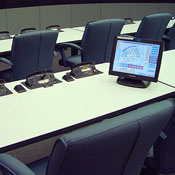 Leasing Laptops
Conventions Serviced in Wichita
Hotels Serviced in Wichita
Best Western Inn & Conference Center
6815 West Kellogg
Wichita, KS 67209
Universities Serviced in Wichita