Bloomington, Indiana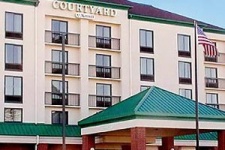 Bloomington Computer Rentals
Rentech Solutions will help you find the perfect computer rental to match your Bloomington business needs. Our computers feature preinstalled software bundles to your company's requested specifications. We have state of the art Dell and HP computers available that will make training seminars and temporary office setups easy for your business to accommodate. One of our Bloomington, Indiana associates will be happy to help you choose the right computer rental for you. Large scale trainings or trade shows are accomodated handily by our low priced high performance desktop computer rentals. Let us help you succeed with a computer rental from Rentech Solutions.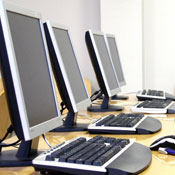 Bloomington Laptop Rentals
When planning offsite meetings in Bloomington, Rentech Solutions has
a laptop rental that will fit your agenda
. Our HP and IBM laptops are powerful and easy to use. Maximize business productivity and enjoy the freedom of movement in Bloomington with a laptop rental matched to your applications. Rentech Solutions knowledgeable employees can help you decide which laptop fits your requirements best. We provide state of the art laptop notebook rentals for both large scale demands and small scale personal rentals. A laptop notebook rental is an easy way to answer your short term technology needs.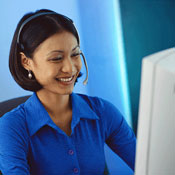 Bloomington LCD Projector Rentals
Projector rental in Bloomington is a Rentech Solutions specialty. Our experience allows us to couple your business with
the perfect LCD projector
. Epson, Mitsubishi and other high quality brands are available to choose from. Rentech Solutions staff provides full technical support for any model we offer. Call Rentech of Bloomington to experience projector rental with confidence. Powerpoint presentations are a breeze with our high quality LCD projector rentals. We make sure that you receive the equipment you require to have a great presentation or family movie night. Every one of our LCD projector rentals are extensively tested and quality assured by our highly qualified technicians.
Bloomington Audio Visual Rentals
AV rental makes Bloomington events and trade shows easy and more affordable. All of Rentech Solutions AV items are pre-tested before being shipped and give you the unsurpassed quality and value that only Rentech Solutions can offer. Choose from PA systems, digital camcorders and much more. All of are audio visual rentals in Bloomington come with Rentech's friendly staff backing to assure you satisfaction. Call Rentech Solutions today for audio visual rentals that will impress your clientele without breaking your budget.
Renting Projectors
Hotels Serviced in Bloomington
Fairfield Inn by Marriott
120 Fairfield Inn Drive
Bloomington, IN 47404
Universities Serviced in Bloomington
Indiana Business College
2222 Poshard Drive
Columbus, IN 47203